Service Notice: LV-7490 Projectors
Update
Thank you for using Canon products.
It is possible that some LV-7490 projectors may be affected by a phenomenon in which the power suddenly shuts down during projection or the projected image does not change. If your LV-7490 projector has one of the serial numbers listed below, it may be affected by this phenomenon. Please contact us using the contact information listed at the bottom of this page. A firmware update will be provided at no charge to correct this phenomenon.
---
Affected Projectors
LV-7490 projectors with serial numbers whose first two digits are Z7, Z8 or Z9.
Serial Number
Z7*****A
Z8*****A
Z9*****A
---
How to Identify Affected products
The serial number can be identified by following either one of the options below. Please check whether the first two digits of the serial number are Z7, Z8, or Z9.
Option 1.
Aim the projector to project at a white surface, and then display the menu to check the serial number (SERIAL NO.).
Press the MENU button on the projector or the remote controller to open the menu screen.
Use the down-arrow

button to select Information, and then press the right-arrow

button.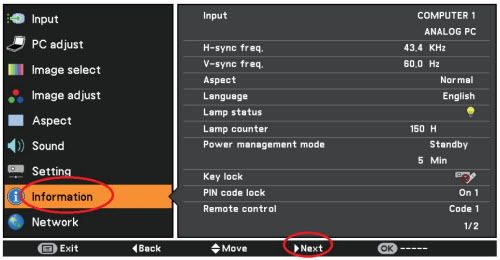 The [Information 2/2] screen will appear, displaying the [SERIAL NO.] field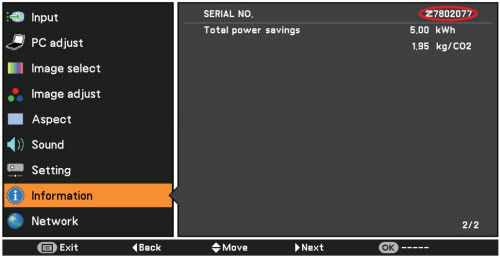 Option 2.Check the serial number which is printed on the label attached to the bottom of the projector.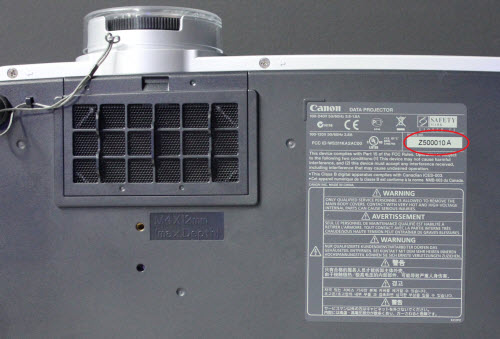 We offer our sincere apologies to customers who have been inconvenienced by this. Canon strives to provide the highest quality products to our customers, and we spare no effort in our quality management to make sure our customers use our products with confidence. We hope our efforts will earn your understanding.
---
Support
The products with this phenomenon will be inspected and repaired free of charge. If you own one of the affected products, please contact our Customer Support Center. This information is for residents of the United States and Puerto Rico only. If you do not reside in the USA or Puerto Rico, please contact the Canon Customer Support Center in your region.
Thank you,
Customer Support Operations
Canon U.S.A., Inc. 
Contact Information for Inquiries
Canon Customer Support Center
Phone: 1-800-OK-CANON
            1-800-652-2666
TDD:  1-866-251-3752
Email: carecenter@cits.canon.com 

Support options and hours of operation:
www.usa.canon.com/support
GET SUPPORT
Need help with your product? Let us help you find what you need.
Product Support
NEED IT FIRST
Sign up for up-to-the-minute Canon News, Sales and Deals.
LEARN WITH CANON
Discover great new ways to enjoy your products with exclusive articles, training and events.
Learn more