 What is Gray Market?
Any Canon-brand products which are imported and sold other than by Canon Authorized Dealers are referred to as "Gray Market" (or "parallel") products.  WHY DOES THIS AFFECT ME?
DISTRIBUTION OF CANON
PRODUCTS IN THE U.S.
Canon Inc. sells and supports Canon-brand consumer and professional products in the U.S. through Canon U.S.A., which distributes these products through its Authorized Dealers and Distributors. Canon U.S.A. is the only authorized importer of these products in the U.S., and provides industry-leading customer service and support for them. Products distributed by Canon U.S.A. are "localized" to meet the needs of customers in the U.S. market and are engineered to comply with local safety regulations and governmental requirements. Legitimate U.S. products come with different accessories, manuals, and warranties than the versions intended for sale in other global regions such as Asia.
HAZARDS & DIFFICULTIES ASSOCIATED
WITH "GRAY MARKET" PRODUCTS
Customers in the U.S. may find that Gray Market products do not meet their expectations because they were not intended by Canon for sale in the U.S.
In some cases, sellers of Gray Market products may attempt to localize the products themselves by adding, changing or removing certain accessories from the products, which may result in the following:
| | |
| --- | --- |
|        | Illegal or counterfeit accessories included in the product packaging, such as batteries, chargers, and ink tanks, which can cause injury and seriously damage your Canon product Learn More > |
|   |   |
|        | An incorrect power cord or adapter which was not provided, or quality checked, by Canon |
|   |   |
|        | Missing, incorrect, or illegal copies of software which may not function |
|   |   |
|        | Missing or poor photocopies of the original manual |
|   |   |
|        | A fake Canon U.S. warranty, a warranty provided by a third party, or no warranty at all |
|   |   |
| | A device with a missing or fake serial number, making the device ineligible for repair by Canon U.S.A., under the limited warranty for the device or under any other circumstances. Learn More > |
Customers should also be aware that Gray Market products MAY NOT be eligible for:
| | |
| --- | --- |
| X   | Coverage under a U.S. warranty |
|   |   |
| X   | U.S. promotions, including mail-in and instant rebates |
|   |   |
| X   | Technical support |
|   |   |
| X   | Membership programs and other service benefits |
SAMPLE GRAY MARKET PRODUCTS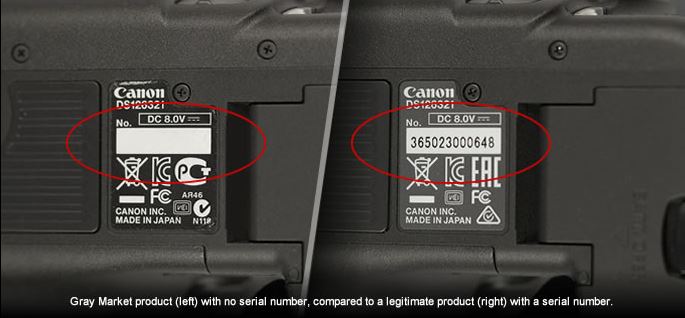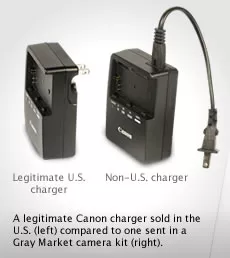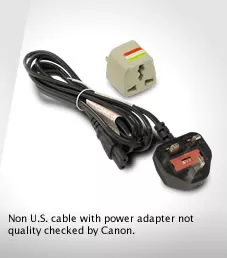 If you are in doubt about a seller, or whether the products it sells are intended for sale in the U.S., please click here.
New and genuine Canon products intended for sale in the U.S. can only be purchased from Canon Authorized Dealers in the U.S. or from Canon U.S.A. directly.
GET SUPPORT
Need help with your product? Let us help you find what you need.
Product Support
NEED IT FIRST
Sign up for up-to-the-minute Canon News, Sales and Deals.
LEARN WITH CANON
Discover great new ways to enjoy your products with exclusive articles, training and events.
Learn more