Hero Carousel content.

There can be big risks with purchasing counterfeit products.
Purchase directly from Canon or from our Authorized Dealers.
Report suspected counterfeit products*
Call 1-855-46-CANON
Potential hazards associated with power accessories, ink and toner from unauthorized dealers
Camera Power Accessories
If you use counterfeit batteries, chargers, camera grips, camera remotes, adapters or external flashes, there's a real risk you might hurt yourself or damage your camera, accessories or other property. The information on this site can help you understand steps you can take and items to be aware of that can help keep you and your equipment safe.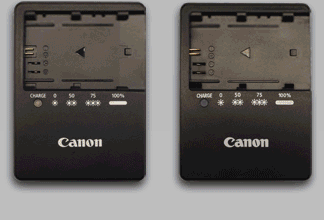 Ink and Toner
Counterfeit ink and toner may compromise printer performance, produce inferior quality prints, and adversely affect the lifespan of printer parts, cause streaking and other print issues, and may even leak and damage your printer.
Read on to learn some telltale signs that you may not be using a genuine Canon product, and how Canon's technology and customer support can help you to determine if you have purchased a counterfeit product.
Canon tools can help you avoid counterfeits
Check for Genuine Canon Hologram
Look for the genuine Canon anti-counterfeiting hologram on the package when purchasing replacement batteries, battery chargers, camera grips, ink and toner cartridges. Canon currently also places an additional hologram on its NB-12L, NB-13L LP-E17, LP-E19, BP-A30, BP-A60, LP-EL and LP-E6NH batteries (as of May 2021). Both holograms change when tilted back and forth, as demonstrated.*
How Canon Technology Can Help You Recognize Potential Counterfeit Batteries
To help keep our consumers safe, Canon developed battery recognition technology to alert you to the possible presence of a counterfeit battery when it is loaded into your camera. Certain models of batteries have technology that communicates with certain cameras to help users identify if the battery inserted is genuine Canon. Watch this video to learn more. If your camera displays a notification that the battery may be counterfeit, please call customer support at 1-855-46-CANON.

Hero Carousel content.

11 ways to avoid counterfeits

AVOID COUNTERFEITERS

Report suspected counterfeit products*
Call 1-855-46-CANON

*For U.S. consumers who have purchased their Canon products in the United States. For non-U.S. consumers, please consult your local Canon sales company.
GET SUPPORT
Need help with your product? Let us help you find what you need.
Product Support
NEED IT FIRST
Sign up for up-to-the-minute Canon News, Sales and Deals.
LEARN WITH CANON
Discover great new ways to enjoy your products with exclusive articles, training and events.
Learn more