Firmware Notice: PIXMA MG3520 & MG3522 does not turn on in some instances.
Update
Thank you for using Canon products.
We have identified a phenomenon in which PIXMA MG3520 / MG3522 does not turn on in some instances.
Canon takes pride in the quality and performance of its products, and we offer our most sincere apologies to customers using this product who have been inconvenienced by this phenomenon. We hope our efforts will earn your understanding.
---
Phenomenon
The printer does not turn on when you press the ON button.
---
Products
| | |
| --- | --- |
| Product | Firmware |
| PIXMA MG3520 Black model | 1.041 |
| PIXMA MG3520 White model | 1.041 |
| PIXMA MG3520 Red model | 1.041 |
| PIXMA MG3522 | 1.041 |
NOTE: If the printer's firmware version is anything other than 1.041, for any model listed above, the phenomenon does not occur.
---
Identification Procedure
Support
Please follow the procedure below to power on the printer and update the Printer to Firmware Version 1.051.
Unplug the printer power cord from the Printer.
Wait for two minutes or longer.
Reinsert the power cord into the Printer.
Press the ON button located on the front panel.
NOTE: If the message below presents itself when attempting to run the firmware update, the printer does not need the Firmware Update Version 1.051. Please click OK to close the window.  Please use the identification procedure listed above to identify affected models.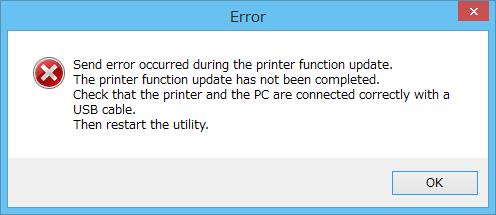 Contact Information for Your Inquiry
This information is for residents of the United States and Puerto Rico only. If you do not reside in the USA or Puerto Rico, please contact the Canon Customer Support Center in your region.  Please register your PIXMA MG3520 or PIXMA MG3522 printer. By registering, we will be able to notify you via email when service updates are available.
Thank you,
Customer Support Operations
Canon U.S.A., Inc
Contact Information for Inquiries
Canon Customer Support Center
Phone: 1-800-OK-CANON
            1-800-652-2666
TDD:   1-855-270-3277 
Support options and hours of operation: www.usa.canon.com/support
GET SUPPORT
Need help with your product? Let us help you find what you need.
Product Support
NEED IT FIRST
Sign up for up-to-the-minute Canon News, Sales and Deals.
LEARN WITH CANON
Discover great new ways to enjoy your products with exclusive articles, training and events.
Learn more