Service Notice: VIXIA HF M31/ M30/ M300/ M32/ M301
Phenomenon
While shooting video, as the temperature of the camcorder rises, heat is transmitted to the screw that is positioned between the MIC and AV/OUT terminals. If skin comes in contact with the screw during long periods of shooting, a low temperature burn may result.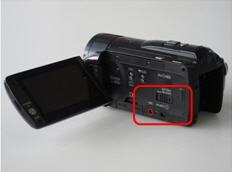 When the LCD monitor is open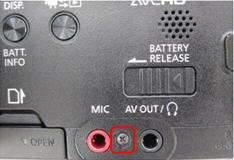 screw
Users should not touch the screw when shooting video for long periods of time.
Furthermore, a protection cushion that covers the screw will be provided to users free-of-charge in order to prevent direct contact with the skin.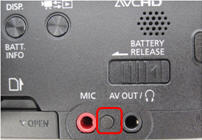 Countermeasure:
Apply a protection cushion to the


section.
---
Products
VIXIA HF M31/ M30/ M300/ M32/ M301 Digital Camcorders
---
Details
Thank you for using Canon products.
We have discovered that when using the VIXIA HF M31/ M30/ M300/ M32/ M301 digital camcorders for shooting video, a low temperature burn may occur depending on the way the camcorder is held and how long it is held. We would like to convey the details and our service policy.
We offer our sincerest apologies to customers who have been inconvenienced by this problem. Please be assured that we spare no effort in our quality management to make sure our customers can use our products with confidence. We hope our efforts will earn your understanding.
---
Support
The products with this phenomenon will be inspected and repaired free-of-charge.
If you own one of the affected products, please contact our Customer Support Center.
We appreciate your patience, and we offer our sincerest apologies to the customers using these products who have been inconvenienced by this issue.
This information is for residents of the United States and Puerto Rico only. If you do not reside in the USA or Puerto Rico, please contact the Canon Customer Support Center in your region. Please register your VIXIA HF M31/ M30/ M300/ M32/ M301. By registering, we will be able to notify you via email when future firmware updates become available for download. If you already registered, please ensure you are opted-in to receive the notification.
Thank you,
Customer Support Operations
Canon U.S.A., Inc
Contact Information for Inquiries
Canon Customer Support Center
Phone:    1-800-OK-CANON
                1-800-652-2666
TDD:       1-866-251-3752
Email: carecenter@cits.canon.com
Support options and hours of operation: www.usa.canon.com/support
GET SUPPORT
Need help with your product? Let us help you find what you need.
Product Support
NEED IT FIRST
Sign up for up-to-the-minute Canon News, Sales and Deals.
LEARN WITH CANON
Discover great new ways to enjoy your products with exclusive articles, training and events.
Learn more