Service Notice: PowerShot G10: Firmware Update
Update
Thank you for using Canon products.
We have discovered that if RAW images are captured by the PowerShot G10 digital camera under certain settings, a magenta (reddish purple) cast appears in the recorded images. Accordingly, we would like to convey the details and our service policy concerning this phenomenon.
We offer our sincerest apologies to customers who have been inconvenienced by this problem. Going forward, we will spare no effort in our quality management to make sure our customers can use our products with confidence. We hope our efforts will earn your understanding.
---
Phenomenon
If RAW images are captured by continuous shooting under the ISO 1600 setting, abnormal data is recorded and a magenta cast appears in the second and subsequent RAW images. This phenomenon also occurs in the second and subsequent recorded RAW images captured by single shooting, but only if the LCD monitor display mode is set to the OFF position.
This phenomenon cannot be confirmed when images are played back on the camera's LCD monitor. It can only be confirmed if image processing software (such as the Digital Photo Professional software bundled with the product) is used to develop RAW images on a PC.

  Note:
        Images that have the magenta cast phenomenon cannot be fixed.
        The phenomenon only appears in RAW images, and does not appear in JPEG images or images appearing on the LCD monitor display.
        The phenomenon only occurs if the ISO Speed Dial is set to ISO 1600 manually, and does not occur if the ISO speed is set to other values (such as ISO AUTO or ISO HI).
---
Products
Affected Product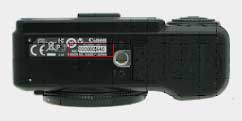 Please check the serial number on the bottom of the camera.
    Serial Numbers
    Products whose fifth digit from the left is 0 or 1 are affected.
        ****0*****
        ****1*****
Among products with the serial numbers described above, if there is a marking inside the battery cover like the one in the image below, the issue has already been corrected by correction firmware, and you may continue to use your camera as is with no further action required.
In addition, products whose fifth digit from the left is 2 or above are already equipped with correction firmware; therefore, this phenomenon does not apply.
---
Support
We have made the correction firmware that is incorporated with countermeasures for this phenomenon available; therefore, please update your cameras with this firmware. We are sorry for the inconvenience and thank you for your cooperation.
The details of the correction firmware are listed on the following Web page.
Click here to download the updated firmware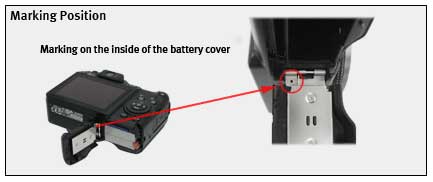 In addition, this firmware update can also be performed at our service centers. If you wish to have us perform the firmware updates, please contact our service centers.
Canon always strives to provide the highest quality products to our customers. We apologize for any inconvenience these phenomena may have caused. We appreciate your kind patronage and support.
This information is for residents of the United States and Puerto Rico only. If you do not reside in the USA or Puerto Rico, please contact the Canon Customer Support Center in your region.

Canon U.S.A., Inc.
Canon Customer Support Center

| | |
| --- | --- |
| Phone: | 1-800-OK-CANON |
|   | 1-800-652-2666 |
| TTD: | 1-866-251-3752 (toll free) |

Email: carecenter@cits.canon.com
Support options and hours of operation: www.usa.canon.com/support
GET SUPPORT
Need help with your product? Let us help you find what you need.
Product Support
NEED IT FIRST
Sign up for up-to-the-minute Canon News, Sales and Deals.
LEARN WITH CANON
Discover great new ways to enjoy your products with exclusive articles, training and events.
Learn more