Service Notice: Starter Guide Misprint for PowerShot A2000 IS and PowerShot SX110 IS
Products
The Spanish version of the Software Starter Guides bundled with the PowerShot A2000 IS or PowerShot SX110 IS.
---
Details
To owners of the PowerShot A2000 IS and PowerShot SX110 IS digital camera:
Thank you for using Canon products.
There are inadvertent misprints in the language indications on the cover pages of the Software Starter Guides that are bundled with the PowerShot A2000 IS and PowerShot SX110 IS. Details are as follows:
On the cover, there is a misprint in which the word "Guide", is expressed in French instead of Spanish. In addition, the language indication in the lower-left hand corner incorrectly references French. Please note that the rest of the Software Starter Guide Book is correctly expressed in Spanish.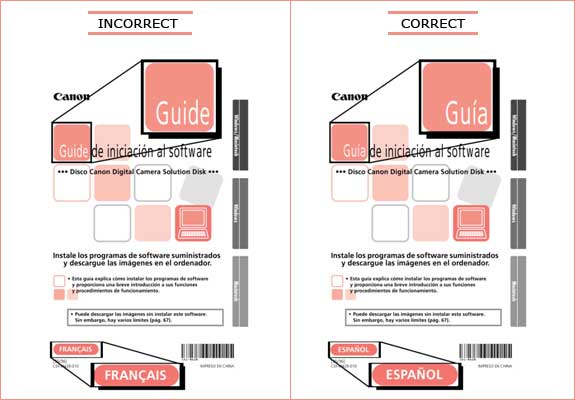 ---
Support
Contact Information for Inquiries
Canon U.S.A., Inc.
Customer Support Center
Phone:     1-800-OK-CANON (toll free)
                1-800-652-2666
Email: carecenter@cits.canon.com
Support options and hours of operation: www.usa.canon.com/support
We offer our sincerest apologies to customers who have been inconvenienced by this problem. We will continuously strive to improve our quality management to ensure that our customers can use our products with confidence. We hope our efforts will earn your understanding.
GET SUPPORT
Need help with your product? Let us help you find what you need.
Product Support
NEED IT FIRST
Sign up for up-to-the-minute Canon News, Sales and Deals.
LEARN WITH CANON
Discover great new ways to enjoy your products with exclusive articles, training and events.
Learn more