Service Notice: EOS R10
Thank you for using Canon products.
Concerning the Mirrorless Camera EOS R10, the following phenomenon has been confirmed.
Customer support for this phenomenon is described below.
We would like to offer our sincere apologies to any users who may have been inconvenienced by this phenomenon.
Phenomenon
Certain units of the EOS R10 camera may exhibit a loud crackling sound when the built-in flash fires.
Affected Product
Mirrorless Camera EOS R10
If the first two digits of the camera's serial number are between 01 and 10, the camera may be affected. The serial number is located at the bottom of the camera, as shown below with the first two digits highlighted.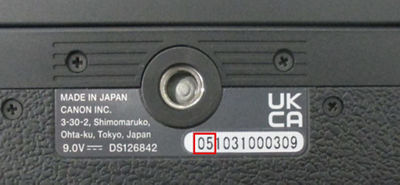 How to check if your camera is affected:
(1) Click the [Search] button below to display the serial number input screen.
(2) Input your camera's serial number (12 digits) and then click the [Submit] button.
(3) One of the following three messages will be displayed.
"Your camera is NOT an affected product."
"Your camera is an affected product."
"Invalid number"

*The list of affected cameras will be updated periodically in accordance with the handling status.
*If the camera is not affected by this issue, you may use your camera as is without any problem.
Period of Accepting Free Repairs
On or Before March 31, 2025
---
Support
GET SUPPORT
Need help with your product? Let us help you find what you need.
Product Support
NEED IT FIRST
Sign up for up-to-the-minute Canon News, Sales and Deals.
LEARN WITH CANON
Discover great new ways to enjoy your products with exclusive articles, training and events.
Learn more