Service Notice: DC22 Snapping Noise
Update
Thank you for using Canon products.
We have found in very rare cases a phenomenon in the DC22 Digital Camcorder in which "snapping" discharge sounds are heard from within the camera. These sounds may occur because of a discharge of the electric charge of the flash firing capacitor.
If you hear this type of discharge sound, please contact the nearest Canon Service Center for inspection. Even if this phenomenon occurs, it will not lead to ignition or heat generation.
We sincerely apologize for any inconvenience caused to customers who use this product. We spare no effort in our quality management to make sure our customers can use our products with confidence. We hope our efforts will earn your understanding.
---
Phenomenon
"Snapping" discharge sounds can be heard from within the camera in very rare cases when switching the shooting mode to still mode with the movie/still switch or when turning on the power in still mode.
If the fault does occur, it may become impossible to turn the power off, in which case the battery or power cable should be removed from the camcorder.
---
Products
Digital Video Camera "DC22"
Affected products have following serial numbers. The serial number is indicated inside the battery box that can be found by opening the LCD monitor.
Service may be required if the seventh digit from the left in the serial number is "0".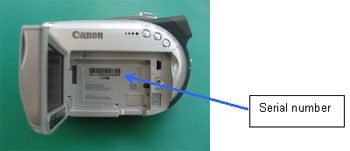 ---
Caution on Use
If a product with relevant serial number has a black dot marking inside the AV Terminal/Card Cover, the product has already incorporated the countermeasure and you will not have any problem using it as is.

---
Support
The products with this phenomenon will be inspected and repaired free-of-charge.

Contact Information for Inquiries
Canon U.S.A., Inc.
Customer Support Center
Phone:   1-800-OK-CANON (toll free)
              1-800-652-2666
TTD:     1-866-251-3752 (toll free)
Email: carecenter@cits.canon.com
Support options and hours of operation: www.usa.canon.com/support
GET SUPPORT
Need help with your product? Let us help you find what you need.
Product Support
NEED IT FIRST
Sign up for up-to-the-minute Canon News, Sales and Deals.
LEARN WITH CANON
Discover great new ways to enjoy your products with exclusive articles, training and events.
Learn more