Service Notice: EOS 5D Mark II and EOS 7D: Locking mode dial modification
Update
Thank you for using Canon products.
Effective December 6, 2010, Canon will start to provide as a chargeable service, a locking mode dial modification for the "EOS 5D Mark II" and "EOS 7D" digital single-lens reflex cameras.
This modification is available, for a fee, to owners of these cameras who would prefer a Mode Dial which locks in place and can't be accidentally moved during normal camera operation.
For USA residents, the pricing of the locking mode dial modification service for EOS 5D Mark II and 7D cameras has been set at $100 per camera as of December, 2010. (Pricing and availability subject to change without notice.) For further details, see contact information for inquiries below.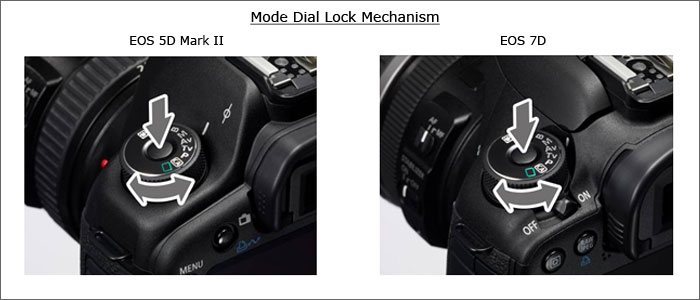 Once modified, users must first press and hold down the central lock-release button in order to turn the Mode Dial. The modification is intended to prevent the Mode Dial from accidentally moving, once set to a particular exposure mode by the user.
---
Products
EOS 5D Mark II Digital SLR Cameras
EOS 7D Digital SLR Cameras
---
Support
GET SUPPORT
Need help with your product? Let us help you find what you need.
Product Support
NEED IT FIRST
Sign up for up-to-the-minute Canon News, Sales and Deals.
LEARN WITH CANON
Discover great new ways to enjoy your products with exclusive articles, training and events.
Learn more