Updated Service Notice: EOS-1D Mark III: AF Mirror Adjustment Problem
Update
To owners of the EOS-1D Mark III:
April 30, 2008 (Update to November 16, 2007 notice)
See the April 30, 2008 updated information at the end of this notice
March 5, 2008 (Update to November 16, 2007 notice)
See the March 5, 2008 updated information at the end of this notice
---
Products
Details
AF Mirror Adjustment Problem
After a thorough investigation, we have found that some EOS-1D Mark III cameras may have an issue with the mirror mechanism, which is part of the autofocus optical system. This issue may cause inconsistent focusing accuracy or inconsistent focus tracking with moving subjects when using AI-Servo AF and continuous shooting modes, particularly in high temperatures.
If the serial number on the bottom of the camera is between 501001 and 546561, it could be affected by the AF mirror adjustment problem, with the exception of cameras with the following serial numbers
(click here) which were manufactured with an updated mirror mechanism. (Additionally, all EOS-1D Mark III cameras with serial numbers higher than 546561 have been manufactured with the updated mirror mechanism.)
Please note that the issue occurs only in some of the unmodified EOS-1D Mark III cameras within this serial number range. If your EOS-1D Mark III camera is operating correctly, it will not be necessary to have it repaired for this issue.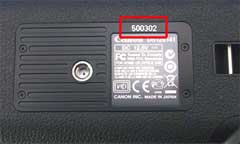 Starting in late November, we will offer repairs free of charge for customers who have affected products and are experiencing this problem. We will announce additional details on our web site as soon as they become available.
April 30, 2008
Updated Information

We have been investigating, and working on improving, AF system performance to ensure the satisfaction of our customers. As a result, we have released new firmware version 1.2.3 which improves AF performance in AI servo AF for shooting extremely low contrast objects. Please use this new firmware. Click here for details and to download firmware version 1.2.3.
March 5, 2008
Updated Information

After the AF mirror Adjustment, including the updated firmware version 1.1.3, the EOS-1D Mark III AF function performed better in our tests than all previous EOS camera models.

Canon strives at all times to continuously improve our products in order to provide our customers with the best performance and value.

We are aware that some customers have raised questions about the performance of the EOS-1D Mark III AF system under certain conditions.  We will continue to investigate, and look for opportunities to improve, the performance of the AF system to ensure the satisfaction of all of our customers
We appreciate your patience, and we offer our sincerest apologies to the customers using these products who have been inconvenienced by this issue.
---
Support
This information is for residents of the United States and Puerto Rico only. If you do not reside in the USA or Puerto Rico, please contact the Canon Customer Support Center in your region.
Contact Information for Inquiries
Canon U.S.A., Inc.
Customer Support Center
Phone:    1-800-OK-CANON (toll free)
                 1-800-652-2666
TTD:        1-866-251-3752 (toll free)
Email: carecenter@cits.canon.com
Support options and hours of operation: www.usa.canon.com/support
GET SUPPORT
Need help with your product? Let us help you find what you need.
Product Support
NEED IT FIRST
Sign up for up-to-the-minute Canon News, Sales and Deals.
LEARN WITH CANON
Discover great new ways to enjoy your products with exclusive articles, training and events.
Learn more