Service Notice: SX80 Mark II projector
Thank you for using Canon products.
When an HDMI cable is used to connect the SX80 Mark II projector to AV equipment or computers, we have discovered that certain projectors with classification numbers shown below may experience one or more of the following phenomena listed below.
Image cannot be projected
Audio is not output from the projector
The resolution of the projection is low
We offer our sincere apologies to customers who have been inconvenienced by this phenomenon. Canon works hard to provide the highest quality products to our customers, and we spare no effort in our quality management to make sure our customers use our products with confidence. We hope our efforts will earn your understanding.
---
Affected Product
| | |
| --- | --- |
| Model Name | Classification Number |
| SX80 Mark II | A, B, or C |
---
How to Check the Classification Number
The last letter in the serial number is the classification number.
For example, if the serial number is JXY00473B, "B" is the classification number.
How to Check the Classification Number using the Product Label
The product label is attached to the bottom side of the projector, and the serial number is printed on it. Please see the image below for your reference.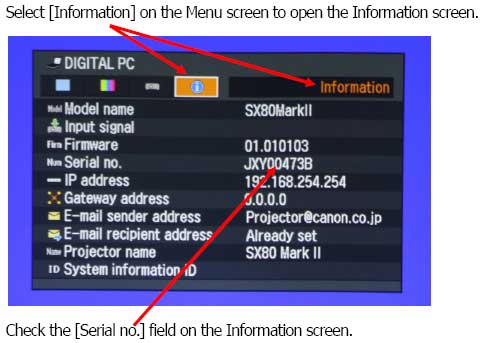 2. How to Use the Projector to Check the Classification Number
          View the projected image on a screen.
          Press the MENU button on the projector or remote controller to open the menu.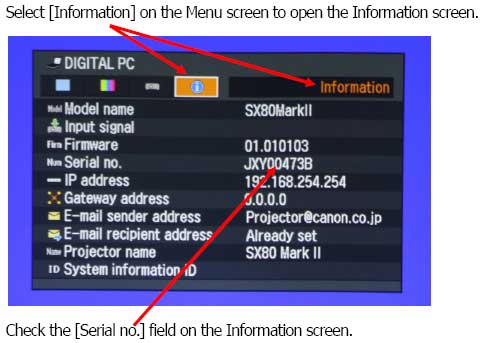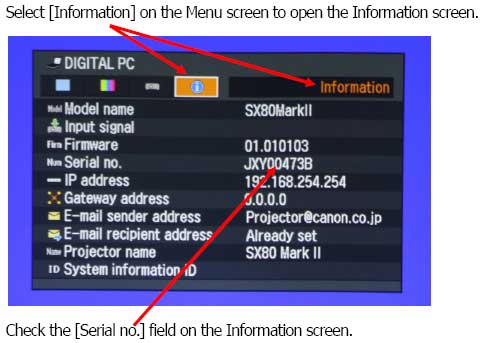 *For further details, please see "Checking the Information of the Projector" in the User's
            Manual.
---
Support
The products with this phenomenon will be inspected and repaired free of charge. If you own one of the affected products, please contact our Customer Support Center. We appreciate your patience, and we offer our sincere apologies to the customers using these products who have been inconvenienced by this issue. This information is for residents of the United States and Puerto Rico only. If you do not reside in the USA or Puerto Rico, please contact the Canon Customer Support Center in your region.
Thank you,
Customer Support Operations
Canon U.S.A., Inc.
Contact Information for Inquiries
Canon Customer Support Center
Phone:  1-800-OK-CANON
             1-800-652-2666
TTD:    1-866-251-3752
Email: carecenter@cits.canon.com
Support options and hours of operation: www.usa.canon.com/support
GET SUPPORT
Need help with your product? Let us help you find what you need.
Product Support
NEED IT FIRST
Sign up for up-to-the-minute Canon News, Sales and Deals.
LEARN WITH CANON
Discover great new ways to enjoy your products with exclusive articles, training and events.
Learn more