Firmware Notice: Speedlite 600EX-RT and Speedlite Transmitter ST-E3-RT
Update
Please see the changes to the "Identification Procedure" section below regarding criteria for affected serial numbers.  The identification method has been enhanced in order to more precisely identify affected products.

---
Firmware Notice
Thank you for using Canon products.
---
Phenomenon
Except as described below, the following will occur with the affected units listed below:
Linked shooting and wireless flash shooting with radio transmission will not work in some setting modes when 7 or more units are linked. This phenomenon does not occur when 6 or fewer units are linked.
---
Affected Products
Speedlite 600EX-RT and Speedlite Transmitter ST-E3-RT
Units with a combination of 3rd and 4th digits in the serial number in the ranges shown below are affected:
Speedlite 600EX-RT:                            [xx01xxxxxx] ~ [xx12xxxxxx]
Speedlite Transmitter ST-E3-RT:           [xx01xxxxxx] ~ [xx03xxxxxx]
Note:  If the battery compartment of an affected unit contains the marking illustrated below, the product is NOT affected by the phenomenon described above, even if the serial number is within the ranges mentioned above.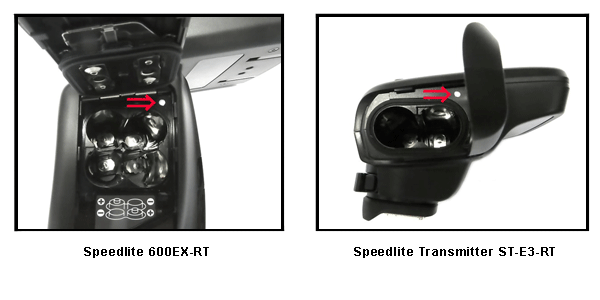 ---
Support
Product Advisories - Speedlite 600EX-RT
To arrange to have an affected unit inspected and serviced for this phenomenon at no cost, please contact Canon using the information below.
This information is for residents of the United States and Puerto Rico only. If you do not reside in the USA or Puerto Rico, please contact the Canon Customer Support Center in your region.
Thank you for using Canon products.
Customer Support Operations
Canon U.S.A., Inc
Contact Information for Inquiries
Canon Customer Support Center
Phone:    1-800-OK-CANON     
               1-800-652-2666
TDD:      1-866-251-3752
Email: carecenter@cits.canon.com
For additional support options: usa.canon.com/support
GET SUPPORT
Need help with your product? Let us help you find what you need.
Product Support
NEED IT FIRST
Sign up for up-to-the-minute Canon News, Sales and Deals.
LEARN WITH CANON
Discover great new ways to enjoy your products with exclusive articles, training and events.
Learn more