Canon Support for DP-V1710 | Canon U.S.A., Inc.

DP-V1710
---
Get started with these quick links.
Protect your product with CarePAK PLUS. Learn More
Purchase this product's accessories and more. Shop Now
Looking for help with your order? Order help
---
SETUP & TROUBLESHOOTING
Find answers in our extensive knowledge base with dozens of articles and curated Q&As to help you troubleshoot your issue yourself.

PRODUCT INFO
| | |
| --- | --- |
| Panel Type | IPS LCD panel |
| Screen Size | 17.3 inch (43.8 cm) |
| Aspect Ratio | 16:9 |
| Resolution | 3840 x 2160 (8.3 megapixels) |
| Active display area | Approx. 381.9 x 214.8 mm |
| Pixel Pitch | 99 µm / 255 ppi |
| Panel Driver | 8 bit for each RGB color |
| | |
| --- | --- |
| Brightness (Standard) | 100 cd/m2 |
| Viewing Angle (Up, Down, Left, Right) | 89° (contrast ratio 10:1 or higher) |
| Surface Treatment | Anti glare coating |
Backlight Type

White LED, direct down type
Power

Rated voltage:
AC 100-240 V Rated frequency: 50/60 Hz
DC 12 V Max. 10 A, XLR terminal
Power Consumption

At Maximum Load (including change in brightness through aging): Approx. 140 W
At Factory Shipment: Approx. 85 W
Environmental Conditions

Operating
Temperature and humidity: 0 to 40 °C (32 - 104 °F) (20 - 85 % RH no condensation), recommended: 15 - 30 °C (59 - 86 °F)
Pressure: 700 - 1060 hPa

Storage / Transporting
Temperature and humidity:
-20 - 40 °C (-4 - 104 °F) (20 - 85 % RH no condensation)
41 - 60 °C (105 - 140 °F) (20 - 30 % RH no condensation)

Pressure: 700 - 1060 hPa
Dimensions (Width x Height x Depth)

With stand and handle: Approx. 435 x 356 x 194 mm (17.1 x 14.0 x 7.6 in.)
Display unit only, without protruding parts: Approx. 435 x 308 x 154 mm (17.1 x 12.1 x 6.1 in.)
Weight

Approx. 17.6 lbs (8 kg)
Mounting Hole Pitch

VESA standard 100 x 100 mm (3.9 x 3.9 in)
6G/3G/HD-SDI

4 (6G:2 pass-thru systems, 3G/HD-SDI: 1 pass-thru system)
Display Port

-
HDMI

1(1 system) Type A terminal (4K 60P Support)
Copy protection: HDCP 2.2
| | |
| --- | --- |
| 6G/3G/HD-SDI | 4(6G:2 pass-thru systems, 3G/HD-SDI: 1 pass-thru system) |
| Headphone | 1 stereo mini-jack. Supported impedance: 32-64Ω |
| | |
| --- | --- |
| USB | 1 USB A receptacle terminal. Universal Serial Bus Specification Revision 2.0 compliant LS (Low Speed) / FS (Full Speed) / HS (High Speed) mode compatible. Enhanced Host Controller Interface Specification for Universal Serial Bus Revision 1.0 compliant. |
| LAN | 1 RJ-45 terminal IEEE802.3 10BASE-TX / IEEE802.3u 100BASE-TX compliant |
| Remote | 1 RJ-45 terminal, GPI 8 pin |
Supplied Accesories

AC Power Cord, Instructional Manual, AC Power Cord Clamp
Accessories

Protect Panel (PP-17U)
Rack Mount Bracket (RB-02)
CANON PROFESSIONAL DISPLAY LIMITED WARRANTY
FOR PRODUCTS PURCHASED IN THE UNITED STATES
The limited warranty set forth below is given by Canon U.S.A., Inc. ('Canon USA') with respect to Canon Professional Display Equipment ('the 'Equipment') accompanying this limited warranty in the Equipment's original container, when purchased in the United States. This limited warranty is only effective upon presentation of your Bill of Sale or other proof of purchase. 
Canon USA warrants to the original end-user purchaser, when delivered in new condition in its original container, that the Equipment will be free from defects in materials and workmanship under normal use and service for a period of ONE-YEAR from the date of original purchase. When returning Equipment under this warranty, you must pre-pay the shipping charges, and you must enclose a copy of the Bill of Sale or other proof of purchase with a complete explanation of the problem. Equipment returned to a Canon USA factory service facility, and proven to be defective upon inspection, will be, without charge,:
(a) repaired utilizing new or comparable refurbished parts, or
(b) exchanged for refurbished or new Equipment
as determined in the Canon USA's repair facility's sole discretion. The repaired or exchanged Equipment will be shipped back free of charge. Warranty exchange or replacement does not extend the original warranty period of the Equipment. For repairs after the warranty period has expired, an estimate of the cost of repair and an opportunity to approve or reject the repair expense before it is incurred will be provided. If you approve, repairs will be made and the Equipment will be returned at your risk and expense. If you reject, the Equipment will be returned to you at no charge to you to an address within the United States.
This limited warranty only applies if the Equipment is used in conjunction with compatible computer equipment, compatible peripheral equipment and compatible software, as to which items Canon USA will have no responsibility. Canon USA shall have no responsibility under this limited warranty for use of the Equipment in conjunction with incompatible peripheral equipment and/or incompatible software. Non-Canon brand peripheral equipment and software which may be distributed with, or be factory loaded on, the Equipment, are sold 'AS IS' without warranty of any kind by Canon USA, including any implied warranty regarding merchantability or fitness for a particular purpose. The sole warranty with respect to such non-Canon brand items is given by the manufacturer or producer thereof. If the Equipment contains a hard disk drive, Canon USA recommends that data stored on that drive be duplicated or backed up to prevent its loss in the event of failure or other malfunction of such drive.
In order to obtain warranty service, please contact the authorized Canon retail dealer from whom you purchased the Equipment or contact the CANON INFORMATION CENTER AT 855-4K-CANON (855-452-2666) or on the internet at pro.usa.canon.com/support. You will be directed to the nearest service facility for your Equipment.
Technical support program specifics subject to change without notice.
This Limited Warranty covers all defects encountered in normal use of the Equipment and does not apply in the following cases:
| | |
| --- | --- |
| A. | Loss or damage to the Equipment due to abuse, neglect, mishandling, electric current fluctuation, accident, improper maintenance, use of non-Canon accessories or failure to follow operating, maintenance or environmental instructions prescribed in Canon USA's user's manual; |
| B. |  If the Equipment is defective as a result of sand, dirt or water damage; |
| C. | If defects or damages are caused by the use of parts or supplies (other than those sold by Canon USA) that cause damage to the Equipment or that cause abnormally frequent service calls or service problems; |
| D. | If defects or damages are caused by service other than Canon USA's factory service centers or authorized service facilities; |
| E. | Any internal modification to product hardware or firmware; |
| F. | Any maintenance of the Equipment, including any fees for such Maintenance; |
| G. | If the Equipment has had its serial number or dating altered or removed. |
This Limited Warranty does not apply to Equipment purchased outside the United States. This Limited Warranty does not apply to accessories or consumables for the Equipment, which are sold "AS IS", without warranty of any kind by Canon USA. Please retain this warranty card and your Bill of Sale as a permanent record of your purchase. This card ensures that you are contacted promptly should there be a safety inspection, modification or product recall under applicable laws or regulations.
NO IMPLIED WARRANTY, INCLUDING MERCHANTABILITY AND FITNESS FOR A PARTICULAR PURPOSE APPLIES TO THIS EQUIPMENT AFTER THE APPLICABLE PERIOD OF EXPRESS WARRANTY OR GUARANTY UNDER THIS WARRANTY (EXCEPT AS MENTIONED ABOVE). (SOME STATES DO NOT ALLOW LIMITATIONS ON HOW LONG AN IMPLIED WARRANTY LASTS, SO THE ABOVE LIMITATION OR EXCLUSION MAY NOT APPLY TO YOU). CANON USA SHALL NOT BE LIABLE FOR LOSS OF REVENUES OR PROFITS, EXPENSE FOR SUBSTITUTE EQUIPMENT OR SERVICE, STORAGE CHARGES, LOSS OR CORRUPTION OF DATA, INCLUDING WITHOUT LIMITATION, LOSS OR CORRUPTION OF DATA STORED ON THE EQUIPMENT'S HARD DRIVE, OR ANY OTHER SPECIAL, INCIDENTAL OR CONSEQUENTIAL DAMAGES CAUSED BY THE USE, MISUSE OR INABILITY TO USE THE EQUIPMENT, REGARDLESS OF THE LEGAL THEORY ON WHICH THE CLAIM IS BASED, AND EVEN IF CANON USA HAS BEEN ADVISED OF THE POSSIBILITY OF SUCH DAMAGES. NOR SHALL RECOVERY OF ANY KIND AGAINST CANON USA BE GREATER THAN THE PURCHASE PRICE OF THE EQUIPMENT SOLD BY CANON USA AND CAUSING THE ALLEGED DAMAGE. WITHOUT LIMITING THE FOREGOING, YOU ASSUME ALL RISK AND LIABILITY FOR LOSS, DAMAGE OR INJURY TO YOU AND YOUR PROPERTY AND TO OTHERS AND THEIR PROPERTY ARISING OUT OF USE, MISUSE OR INABILITY TO USE THE EQUIPMENT NOT CAUSED DIRECTLY BY THE NEGLIGENCE OF CANON USA (SOME STATES DO NOT ALLOW THE EXCLUSION OR LIMITATION OF INCIDENTAL OR CONSEQUENTIAL DAMAGES, SO THE ABOVE LIMITATION MAY NOT APPLY TO YOU).THIS WARRANTY SHALL NOT EXTEND TO ANYONE OTHER THAN THE ORIGINAL PURCHASER OF THIS EQUIPMENT OR THE PERSON FOR WHOM IT WAS PURCHASED AS A GIFT.
This warranty gives you specific legal rights, and you may also have other rights which vary from state to state.
CANON U.S.A., INC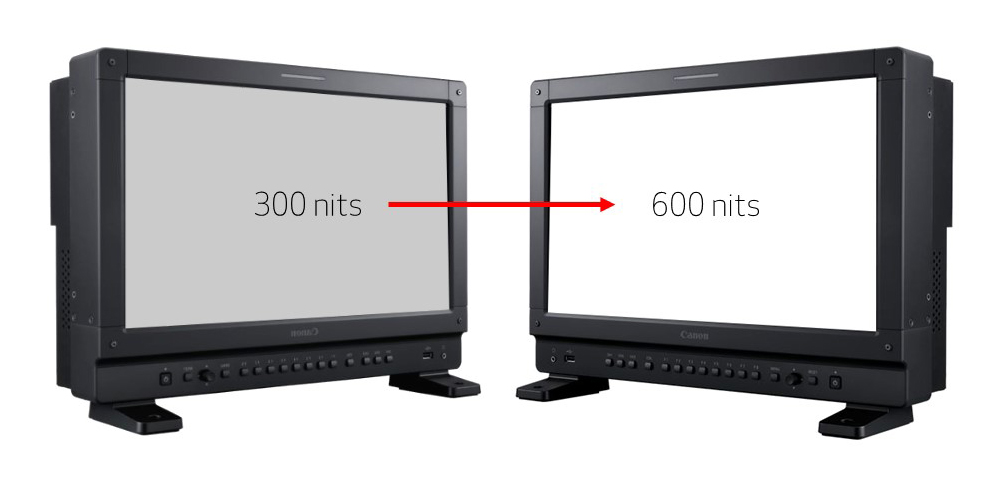 Luminance Boost Service Upgrade
Thank you for using Canon products. Canon is offering luminance upgrades for its 17" reference displays. Interested parties can call our support centers to make arrangements for this service.
Overview
An optional license upgrade is available to increase the maximum luminance value of the Canon DP-V1710 and DP-V1711 reference displays from 300 to 600 nits.
Above images are simulated and do not represent the true white point/luminance values of DP-V1710 and DP-V1711 reference displays
Models
DP-V1710
DP-V1711
Pricing
The price of the upgrade is fixed: $1,000 per unit.
Contact Information for Inquiries

Canon Customer Support Center

Phone:

1-855-4K-CANON, (1-855-452-2666)

Email:

CinemaEOS@cits.canon.com

For additional support options: pro.usa.canon.com/support



Calibration Services
This service supports both standard and high dynamic range (HDR) workflows, and ensures your device meets industry standard specifications (SMPTE, DCI, and ITU).*

What to Expect
Our Imaging Science Foundation (ISF) certified professionals will travel to your site to ensure that any calibration is tailored specifically to your viewing environment. During a calibration session, several key image quality elements will be measured including: white point, grayscale, primary and secondary color chromaticity, luminance and gamma.

Customized Service
For added flexibility, our team can perform calibrations on virtually any type of display technology. Whether it be a consumer grade PC monitor or professional reference display, our service helps ensure your panel is operating to the best of its ability.

Additionally, to remove any ambiguity of your display's performance, clients will also be provided with detailed pre and post calibration reports.

Canon's Color Calibration Service offers one-time calibrations, recurring service contracts, and customized training. For more information or to request a free consultation, please fill out the form below.
ADDITIONAL SUPPORT
How-To Videos
Get to know your product. Troubleshoot and learn to use your product with video tutorials.
Canon Community
Join our community to ask questions, share knowledge, and connect with others.
Knowledge Base
Find answers and perform your own troubleshooting with the knowledge base.
CONTACT US
Still need some help?  In order to get more personalized and faster support, we recommend registering your product in your Canon Account
Still need some help?  In order to get more personalized and faster support, we recommend visiting your Canon Account to explore your options
GET SUPPORT
Need help with your product? Let us help you find what you need.
Product Support
NEED IT FIRST
Sign up for up-to-the-minute Canon News, Sales and Deals.
LEARN WITH CANON
Discover great new ways to enjoy your products with exclusive articles, training and events.
Learn more